Shipping internationally can seem like a daunting process that will lead to a few questions coming to mind. Will my package arrive on time? How much does it cost to ship things internationally? Will the item I sent arrive safely?
Compared to shipping domestically, within the UK, there are some notable differences in the amount of paperwork that legally has to be filled out and the delivery options available to you, but the overall process of shipping remains relatively similar.
This article aims to explain everything you need to know about shipping overseas, with the hopes of helping you to be more confident in the entire process. Below, we have a comprehensive guide in everything you'll need to do, in order to know how to ship cargo internationally with confidence.
A Step-by-Step Guide on How to Ship Internationally
If you want to become a pro at global shipping for freight services, cargo, or just consignments, simply follow the steps below. The Delivery Group has compiled our expert knowledge that will help guarantee your shipment will arrive at its destination anywhere in the world, on time, and without getting held up in customs.
Step 1 – Ensure your Item can be Shipped as Intended
There is a wide range of factors that can determine what kinds of shipments and cargo can be shipped and sent through the border of a country. Not only this, but there are also factors that determine who can receive different kinds of consignments.
If you need detailed and timely information about international exporting and importing requirements, please check the Royal Mail website here.
Depending on what you're attempting to send, and the restrictions of your parcel's destination country, you may also be required to obtain an export licence or ECCN number in order to comply with Export Administration Regulations.
Did you know that some parties are also prohibited from receiving shipments? If you aren't sure a package will definitely reach its intended target, you can get in touch with our friendly customer services team who can give you the relevant, up-to-date information on shipping restrictions and prohibited items.
Step 2 – Choose your Customs Broker
A customer's broker works on your behalf to resolve any delays or hold-ups if your package finds difficulty in clearing customs. All international services via The Delivery Group are broker-inclusive for shipments with a declared customs value of under £500,000.
Both you and the shipment's recipient, have the option to choose your own broker that is not affiliated with The Delivery Group, however, if you're interested in the services offered by us, get in touch with our customer services team today.
The terms of sale, known as the International Commercial Terms, should be determined prior to the sale. These terms specify exactly where the transfer of ownership occurs from the seller to the buyer during the transit of your shipment, package, or cargo.
This 'point of transfer' has a direct impact on which party pays for which costs, including decisions about insurance, clearance, broker selections, certain responsibilities regarding documentation, and delivery post customs clearance.
Step 3 – Gather the Relevant Information
What is the purpose of your shipment?
Whether the purpose of your international shipment is for eCommerce, a gift, return, personal effects or personal use can have a great impact on the requirements for customs. The purpose of your shipment can drive the need for specific customs documentation requirements, as well as calculations on tax and duties.

Are you shipping a commodity or document?
A commodity is known as something that has commercial value, thus is dutiable. This means that you need a commercial invoice with an invoice number for these products.
If you're sending a document, which typically has no value commercially, you will not need a commercial invoice.

If you find that your shipment requires one of these documents, but aren't sure how to find or fill it out, get in touch with our team to learn how to fill out a commercial invoice for international shipping the right way.

What is the value of your shipment?
Shipping a commodity will mean you need to declare its customs and carriage value. Carriage is the replacement value of the goods being shipped, and the declared value for customs is your shipment's true monetary value.
This determines how much import duty the recipient must pay, and may affect transit time.

Do you want to estimate duties and taxes?
Customs officials tend to use the value that you declare on the goods being shipped, as well as a description of your goods and the country of manufacture in order to determine duties and taxes.

With The Delivery Group, you can select the shipper, the recipient, or a third party as the one responsible for the payment of taxes and duties.

Who will be the recipient of the package?
The importer and its consignee can either be the same person, or two different people. The importer will be the one who purchased the goods, and the consignee is the party to whom the commodities are shipped.

Who will be the one paying for transportation charges, duties, and taxes?
During the creation of your international shipment, you can choose the sender, shipper, or a third party to be the one to pay the charges for transportation, duties, and taxes.
Step 4 – Figure Out Which Customs Documents will be Required
The Commercial Invoice is the most common international document required for commodity-based shipments. This invoice provides information to customs authorities that allow them to assess if the goods within the shipment can move in or out of a country and if any special controls or considerations are needed for the package. This document also helps authorities to determine duties and taxes that need to be paid for entry to the country and other variables.
Other common documents for international shipping include the Certificate of Origin, Packing List, and the Pro Forma Invoice, which is for shipments of free goods like samples, catalogues, or non-saleable products.
Each of the required customs documents for each shipment can differ based on origin, destination, and the product being shipped. When you choose The Delivery Group, our customer service team has years of knowledge to ensure you have the correct documentation to successfully clear customs.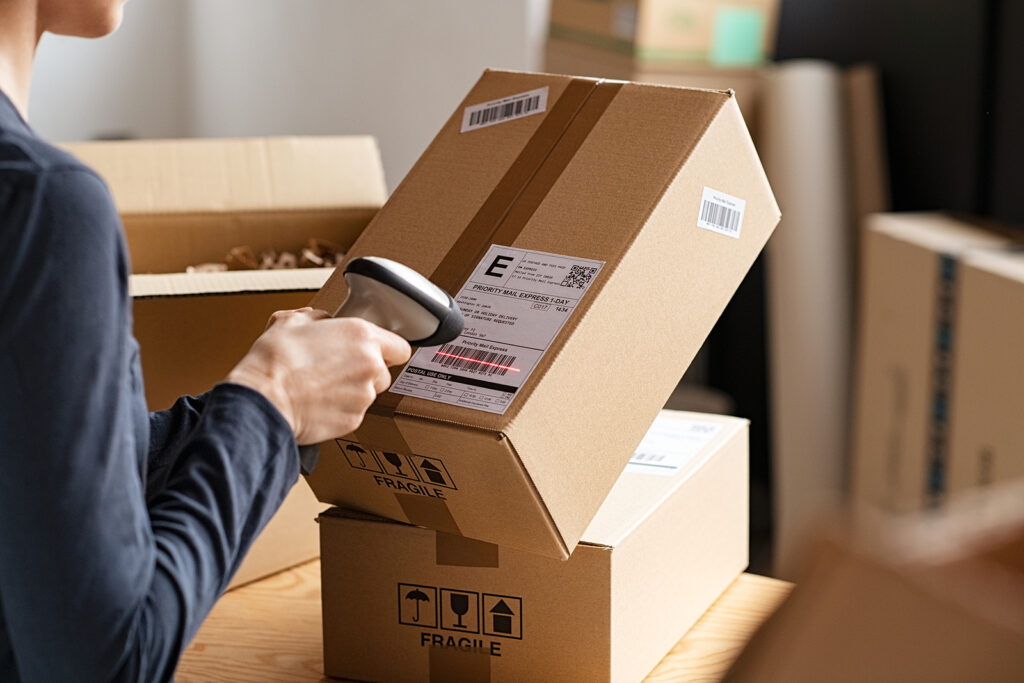 Step 5 – Create your International Shipping Label
You can get your international shipping label, and any other required documents, online or through our expert customer services team at The Delivery Group. When you fill out the international shipping label, make sure to provide the names of the sender and the recipient, their addresses, and their phone numbers. Also, ensure that a description of the item is included, as well as the quantity, value, and weight.
Rates and transit times are calculated based on the details of the item you're shipping, where it's being shipped to, and the shipping option you choose. To finish the preparation of the package, simply slip the printed label into a clear plastic pouch alongside any other documentation. Peel off the adhesive backing, and firmly attach it to the largest flat side of the shipping container.
Make sure not to tape over the label, or cover it in any way. If the package is too small to fit the entire label on one side, ensure the recipient's address is on one side of the sea, and the barcode is on the other.
Step 6 – Make Sure to Complete and Submit the Correct Documents
Making sure to keep all descriptions of the contents of your shipments consistent across all the necessary documents will ensure that delays are kept to a minimum. A good description must answer the following questions:
What is the item / what are the items?
What is the quantity?
What is the item made from?
What is the intended use?
What was the country of manufacture?
Step 7 – Package your Item Safely and Securely
Packaging your shipment, cargo, or consignment in the appropriate packing materials will help to ensure your shipment will reach its destination safely and in the intended condition.
When you choose The Delivery Group, you can order a variety of free, ready to use, self-sealing packing supplies. If you aren't sure how to effectively package when you're sending, or you need to get a hold of packaging materials that will ensure the safety of your package, simply get in touch with our experts to find out how.
Step 8 – Get your Package to The Delivery Group
For your convenience, you can organise and schedule one of our couriers to pick up your package directly from your home or business at a time that suits you. You can also go to a designated vendor and drop off your package for collection if the collection option isn't convenient for you and your needs. Get in touch with our experts on the phone, or organise pick-up from our couriers via your account manager.
How do I Start International Shipping? Contact The Delivery Group Today
How do you ship worldwide? If you still aren't sure, our friendly customer services team can help you on your way to begin your international shipping journey. The Delivery Group has been in this field for years, so we have unparalleled knowledge that will allow us to utilise the cheapest shipping methods, without compromising on the safety and security of your package. Ready to begin shipping internationally?
---
FAQ